Ms. Stephanie Logan | Host
Stephanie Logan is the Founder and Host of DC Diary, a podcast that tells personal stories from political Washington. The podcast focuses not on politics or policy, but on people. DC Diary has been recognized as one of the best local podcasts in the nation's capital and won Gold at the 2018 DC Webfest. In addition to hosting and producing DC Diary, Stephanie works as a Public Affairs Specialist at the Department of Justice. There she tells stories about oversight and good government through video, audio, and social media. She was formerly the Assistant Director of the Public Affairs and Advocacy Institute at American University and a Research Assistant at the Congressional Research Service.
Stephanie was a collegiate athlete at Washington State University where she earned her bachelor's degree in Political Science. Then, she took a one-way cross-country road trip from one Washington to another to pursue her career in public service. She holds a master's degree in Public Administration from American University. Stephanie will be our host for the day of our event.
Ms. Jonna Mendez | Former CIA Chief of Disguise
Jonna Mendez is a retired CIA intelligence officer with 27 years of service. During her career she lived overseas on multiple assignments, under cover, serving tours of duty in Europe, South Asia and the Far East. Her work took her throughout Western Europe, the sub-continent and Asia. Retiring in 1993, she had risen to the position of Chief of Disguise and the rank of GS-14 earning the CIA's Intelligence Commendation Medal. As Chief of Disguise she was responsible for a worldwide staff that created identity transformations for both CIA officers and foreign assets working with the U.S. government.
Since retiring from the CIA, Jonna has continued her career as a fine art photographer, a consultant/lecturer and an author. She and her husband, Antonio J. Mendez, have collaborated on a book about their work against the Soviets in Moscow during the last decade of the Cold War. The title of the book is Spy Dust. She also worked closely with her husband in the writing of ARGO. They have just finished their next book, The Moscow Rules, to be published in May 2019. Jonna is also a founding board member at the International Spy Museum in Washington, D.C
Dr. Jim Garvin | NASA Scientist
Jim Garvin was born in a blizzard in Poughkeepsie (New York) and educated at Brown and Stanford Universities. He received his Ph.D. in Geological Sciences from Brown University in 1984 where his dissertation emphasized the geologic exploration of the surfaces of Mars and Venus. For the past 34 years he has served NASA as a scientist in various capacities, including his present role as the Chief Scientist of NASA's flagship science center (Goddard Space Flight Center), as well as a member of the MSL/Curiosity Mars rover and Mars InSight Lander Science Teams. He is also serving NASA Headquarters as a special science advisor for Mars to the Mars Program Director. In his overall present capacity, he is helping to plan NASA's continuing Mars exploration program, catalyze new missions to Mars, Venus, and Earth, orchestrate innovative scientific research, and to help integrate human and robotic exploration.
Ms. Mara Cherkasky | Segregation Chronicler
Mara Cherkasky is a DC-based historian and writer. In 2014 she co-founded, with Sarah Shoenfeld, both the historical research firm Prologue DC, LLC, and the digital public history project Mapping Segregation in Washington DC. This ongoing endeavor, which reveals the profound impact of racially restricted housing and other forms of segregation, has spurred much-needed conversation around race, wealth, and gentrification in the nation's capital. She is also an experienced oral history interviewer and walking tour guide; the archivist at the nearly 200-year-old All Souls Unitarian Church; and a founding officer of the now 16-year-old Washington Metropolitan Accordion Society. Mara holds a Bachelor's degree in Scandinavian Studies from the University of Wisconsin-Madison and a Master's degree in American Studies from the George Washington University. She is a long-time resident of Washington, DC.
Dr. Maryam Zaringhalam | Open Science Advocate
Maryam Zaringhalam is a molecular biologist who traded in her pipettes for the world of science policy and advocacy after receiving her PhD from The Rockefeller University. She is currently based in Washington, DC where she is an AAAS Science & Technology Policy Fellow, producer for The Story Collider, and a leadership member of 500 Women Scientists. Her words have appeared in Slate, Scientific American, and Quartz. Her cat is named Tesla, after Nikola and not Elon Musk's car. For insights like this and more, follow her on Twitter @webmz_
Ms. Myra Miller | Political Strategist
Myra Miller is Co-Founder of the Winston Group, a strategic planning and survey research firm in Washington, DC. She has worked with House and Senate Republican Leadership and Conferences for over a decade on strategic planning, communications and policy issues. Recently she has worked on a variety of Congressional policy issues and bipartisan initiatives specifically dealing with governance, including Congressional reform, and improving political discourse. On behalf of the Congressional Institute, she has done research on women voters and has worked with Members of Congress on how to talk to women voters. Her experience also includes working with Fortune 100 corporations and associations on key policy issues including health care, medical innovation and tax policy, as well as brand reputation. She has advised center-right political parties throughout Europe, and has a Masters degree in International Studies from the University of Cambridge. Prior to joining the Winston Group, she served as Political Director for the Alabama Republican Party.
Ms. Nilmini Rubin | Foreign Aid Advisor
Nilmini Rubin is an executive vice president at Tetra Tech where she leads unit implementing energy and internet infrastructure projects in developing countries.
Previously, Nilmini served as the Senior Advisor for Global Economic Competitiveness at the U.S. House Foreign Affairs Committee where she directed technology, energy, trade, and economic policy. She drove unanimous passage of a law to increase access to electricity in Africa that serves as the framework for the United States' Power Africa initiative.
Nilmini's work has been highlighted in the Los Angeles Times, New York Times, Politico, Yahoo! and numerous international publications. She was named a Young Global Leader by the World Economic Forum, a "40 Under 40" Leader in International Development by Devex, and is a member of the Council on Foreign Relations.
She graduated from the University of California at Berkeley with her MBA in 1999 and her BA in Economics and Development studies in 1994.
Alakkuu | Spoken Word Poet
Elias Yabarow, better known as Alakkuu, is a Somali-American poet and author behind Wet Grass Vanilla – a book of poetry that delves into the certain reactions one experiences through love.
Born in DC, he spent most of his childhood in the area prior to moving to Kenya where he lived there for 3 years, before returning to study Electrical Engineering. He is currently at Georgetown University pursuing his Master's and is the Co-Founder and CEO of Huvvit – a mobile-first startup that aims to connect home buyers to local real estate agents in real time.
Alakkuu just completed a mid-west US tour of his spoken word poetry where he campaigned for relief efforts in East Africa.
Dr. Benjamin Williams | Mentor and Principal
Benjamin Williams, Ph.D. is the current and founding principal of Ron Brown College Preparatory High School, an all-male public high school in Washington, DC. Prior to this position he served as the Associate Principal at School Without Walls @ Francis Stevens in Washington, DC for two years. Dr. Williams served as an assistant principal, Dean of Students, and Social Studies Teacher in Albemarle County, VA and Newark, NJ.
As a result of the discipline, courage, and drive his teachers, coaches, and administrators instilled in him, Dr. Williams knew he eventually wanted to have that same impact on a young person's life. He stays motivated by seeing the genuine joy and understanding that students demonstrate when they realize they can accomplish or overcome anything that they set their minds to, constantly preaching that it is not where you begin but where you end.
Dr. Williams received his Bachelor's, Master's, and Doctorate of Philosophy in Leadership and Administration from the University of Virginia. He also has an Executive Master's of Leadership from Georgetown University's McDonough School of Business.
Dr. Roy Richard Grinker | Anthropologist
Roy Richard Grinker is Professor of Anthropology at the George Washington University and the Editor-in-Chief of Anthropological Quarterly.
Grinker received his B.A. in anthropology at Grinnell College, and his M.A. and Ph.D. in social anthropology from Harvard University. He is the author of numerous articles and books on the anthropology of Africa, Korea, and autism. His book Nobody's Normal: Capitalism, War, and the Stigma of Mental Illness is forthcoming with Basic Books in 2019.
His other publications include: Companion to the Anthropology of Africa (Grinker, R. S. Lubkemann, C. Steiner and E. Goncalves, eds. 2019) Perspectives on Africa: A Reader in Culture, History and Representation (Grinker, R., S. Lubkemann, and C.B. Steiner, eds. 2010); Unstrange Minds: Remapping the World of Autism (2008); In the Arms of Africa: The Life of Colin M. Turnbull (2000); Korea and its Futures: Unification and the Unfinished War (1998); and Houses in the Rainforest: Ethnicity and Inequality among Farmers and Foragers in Central Africa (1994).
Mr. Craig Cook | Urbanist
Craig Cook is founder of ARCHOTUS, a creative consultancy that designs, curates, and advises across the disciplines of art, architecture and urbanism. Their work is informed by the milieu in which they operate, by close relationships with human rights campaigners, public interest lawyers, environmental activists, and others attracted to the US capital to create change.
Leveraging design to provoke thought and action, they look for the inherent value and latent potential in any place, object, building, situation, or idea; in search of projects that allow them to challenge norms of material and social culture.
Craig is a native of New York City but identifies as Parisian. Craig ran away to France to become a bike racer and ended up a fashion photographer. Transitioning to architecture after 8 years abroad, Craig returned to the United States to complete his studies at Columbia University (BA) and Princeton University (M.Arch). Craig has not gotten off a bicycle since some time in the mid-1980s.
Dr. Donna Vallone | Chief Research Officer at Truth Initiative
Donna Vallone serves as the Chief Research Officer at Truth Initiative's Schroeder Institute and holds an Associate Professor (adjunct) appointment at the College for Global Public Health, New York University. Dr. Vallone leads a multidisciplinary team of over 30 research staff focused on examining the influence of health communication and tobacco policy initiatives to reduce tobacco use among youth and young adults. Most notably, Dr. Vallone leads the evaluation of the national youth smoking prevention truth campaign. Her research interests focus on examining the influence of media messages to reduce tobacco use, particularly among lower socioeconomic status (SES) and racial/ethnic minority groups.
As a leader in advancing our knowledge of tobacco-related disparities, Dr. Vallone served as an editor of the National Cancer Institute Tobacco Control Monograph 22: A Social Ecological Approach to Addressing Tobacco Related Health Disparities (released September, 2017). She also helped establish the Tobacco Research Network on Disparities (TReND) and the Diversity Network, a special interest group within the Society for Research on Nicotine and Tobacco (SRNT). Dr. Vallone serves on numerous expert panels, editorial teams, and evaluation advisory committees, and is the author of over 100 peer-reviewed academic manuscripts.
Dr. Vallone holds a doctoral degree in Sociomedical Sciences from Columbia University and Masters' degree in public health from New York University.
Mr. Jack Coleman | DC Comedian
Jack Coleman has performed stand-up in Washington, DC for just over four years. In that time he produced more than 1,200 shows, been on stage more than 2,000 times, has staged a coup, has opened for people whom he grew up loving and for the past 2.5 years has has run Capital Laughs, a local comic organization that produces 10 free weekly stand-up shows and various monthly showcases, with a group of fellow comics.
Mrs. Elizabeth Lindsey | Tech Democratizer
Elizabeth Lindsey is the Executive Director of Byte Back, a dynamic Washington, DC based nonprofit that provides a pathway of inclusive tech training that leads to living-wage careers.
Prior to joining Byte Back in 2015, Elizabeth served for four years as the Chief Operating Officer of Groundswell, a DC-based environmental nonprofit. She oversaw Groundswell's evolution from a start-up, community-based organization into a nationally-recognized social enterprise.
She earned her bachelor's from Swarthmore College and her master's in public affairs and urban and regional planning from Princeton University. Elizabeth led development efforts for small, minority, and women-owned businesses for the New Jersey Department of the Treasury, and she helped develop workforce training programs in high-demand sectors for the DC Department of Employment Services.
Elizabeth was featured in the Washington Business Journal and named a 2017 and 2018 Tech Titan by the Washingtonian. She won the DC Inno 50 on Fire award, New Power Woman of DC Tech award from DCA Live, and the Champion of Digital Equality Award from the Multicultural Media, Telecom and Internet Council. She led a panel at SXSW in 2018 and was named a top 100 leadership speaker for 2018 in Inc. magazine.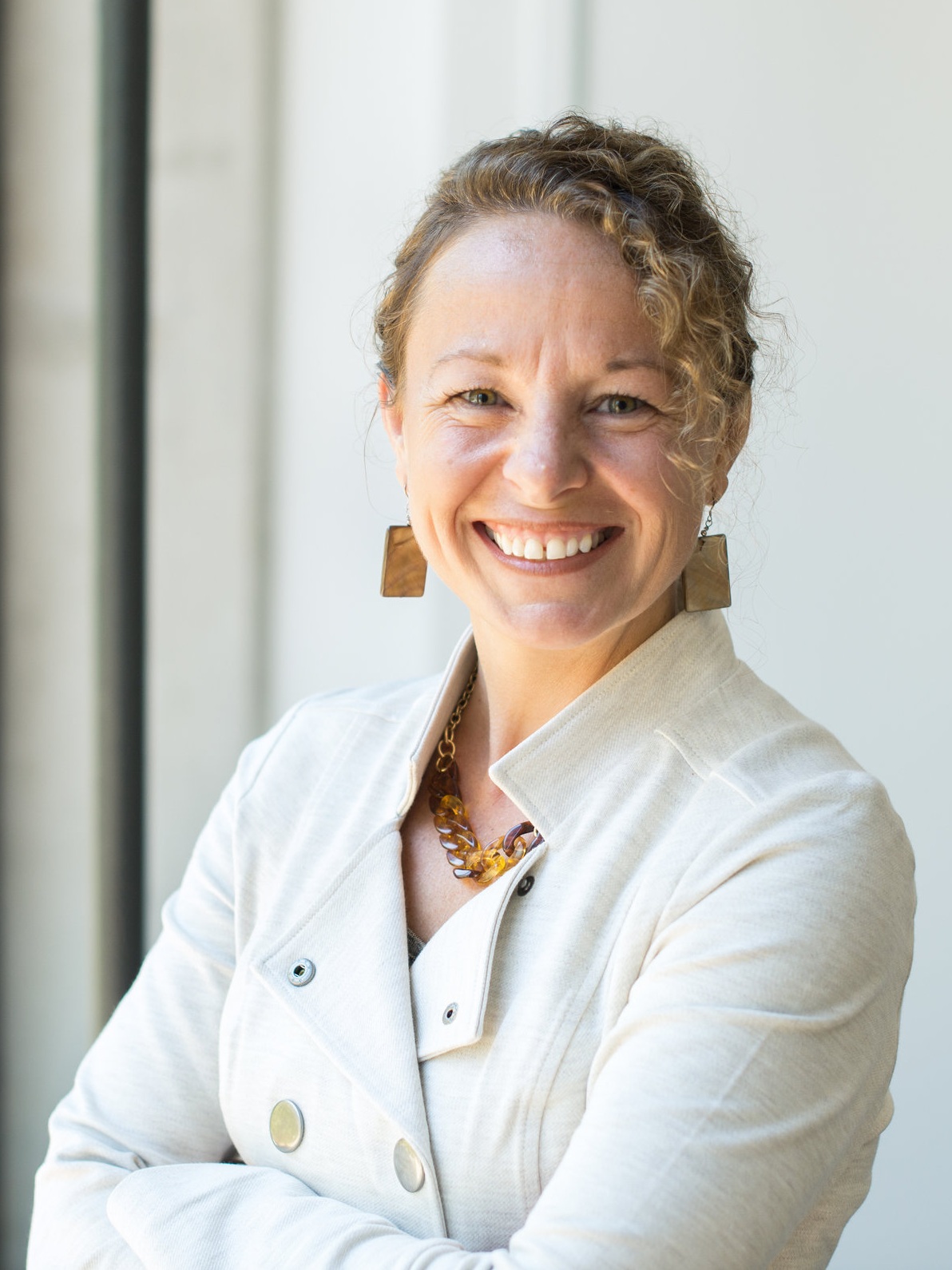 Dr. Monique Mitchell Turner | Anger Analyst
Dr. Monique Mitchell Turner is faculty and Associate Dean at the Milken Institute School of Public Health at the George Washington University. Turner has held faculty positions in Departments of Communication at the University of Oklahoma, University of Texas, and the University of Maryland. Turner's expertise is in risk communication, with a particular focus on persuasive message design and evaluation, risk perception, and cognitive processing of health risks—including informed decision making and critical thinking.
Dr. Turner is the author of the Anger Activism model—a behavioral theory explaining the conditions when emotions (anger) can be constructive versus deleterious. She is most well known for her work in risk perception and risk communication. She regularly conducts communication training programs in risk communication, behavior change, persuasive message design, and critical thinking for organizations such as the Centers for Disease Control and Prevention, Army Corps of Engineers, and the Food and Drug Administration.
As the former director of the Center for Risk Communication Research at the University of Maryland, Turner's research has been funded by organizations such as Health and Human Services, the Food and Drug Administration, the Joint Institute for Food Safety and Applied Nutrition (JIFSAN), the Centers for Disease Control, and the Department of Homeland Security among others.
Turner was formerly the associate editor of Communication Research Reports, is the past chairperson of both the Communication and Social Cognition Division of the National Communication Association and the Health Communication Division of the International Communication Association. She is the former Senior Editor of Health Communication.
Dr. Damion Thomas | Museum Curator of sports
Damion Thomas is the Sports Historian for the Smithsonian National Museum of African American History and Culture. He earned a Ph.D. in United States History at UCLA. Prior to joining the museum, he was an assistant professor at the University of Maryland—College Park and the University of Illinois—Urbana/Champaign, where he taught courses that focused on sports in United States history, sports and U.S. race relations, and sports and black masculinity. He is the author of Globetrotting: African American Athletes and Cold War Politics.